I was out working on a few things this afternoon with my camera in hand and snapped some pictures of our progress thus far this year with our fruit. It is a few days into May and we've had a mix of weather since the official start of spring: temperatures as low as mid 30s at night and we've reached high 80s a couple afternoons. We also saw a decent amount of rain (hallelujah!) and some snow since spring has sprung.
We've got happy trees…they're finally in the ground after much delay. The time spent in temporary pot homes ranged from 1-4 years (much too long). As you can imagine they didn't do much growing in their temporary homes and never produced after the first year in a pot. They've impressed me with how quickly they're flourishing in the ground. They still have catching up to do given their ages, but we're on the right track.

Our nectarine tree has at least 10 grape sized nectarines.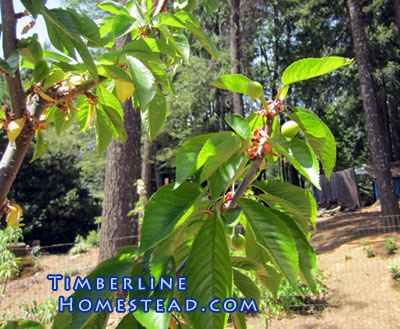 Two of the 3 sweet cherry trees are producing. I haven't counted more than 5 cranberry sized cherries on either tree, but we're making progress!
The two granny smith apple trees have both flowered but I can't see yet if there is any fruit.
Neither of the pear trees has flowered yet.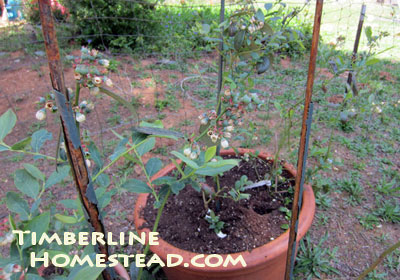 Blueberries! We've had a decent amount of flowers for a couple weeks now and earlier this week I saw fruit! They're kind of hard to pick out in the picture since everything is so green.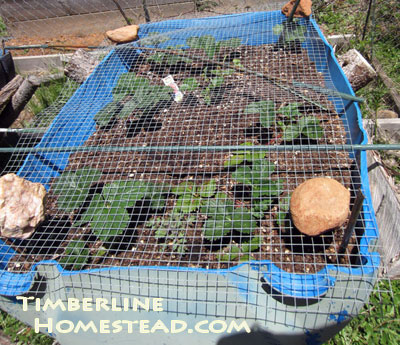 Our strawberries are coming along nicely. We won't allow them to fruit this year to ensure good root growth. I've been snipping 3-4 flowers every few days.
Raspberries are growing quickly. Each little bush has flowers, some are beginning to open.