With the start of growing season fast approaching and the back yard area still lacking a fence (it's a big project), we decided fencing in the orchard and the vegetable garden separately was the only option to get growing this year. This was our first attempt at putting up fencing and I must say I was pretty pleased with myself for sinking the t-posts by myself. We scavenged fence remnants from around the property and were able to repurpose everything. The orchard area was completed first and then we moved onto the vegetable garden.
The plot for the garden is on a slight slope which isnt a big deal, but makes the fence line less than perfect. I first sunk the corner t-posts then spaced the remaining t-posts about 6feet apart on all sides. I'm short so I utilized a lawn chair to get me to the proper height for driving the t-post into the ground with the t-post driver. For a more permanent and sturdy animal fence you would definitely want to go with a heave duty corner post for some strength. As long as a deer doesn't get tangled in our fence and a bear doesn't try to climb it, I'm expecting our t-posts to hold up our animal fence just fine.
Pound, pound, pound  and fast forward and the t-posts are in. I recruited help for the next portion because although I'm a scrappy gal, I just couldn't wrestle the fence alone.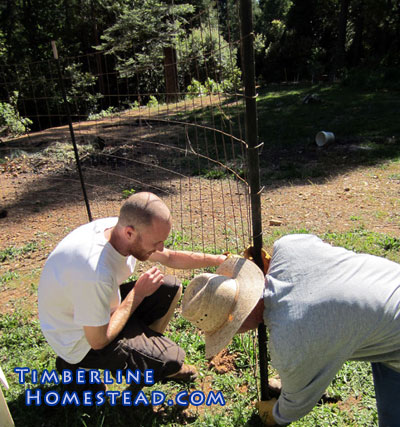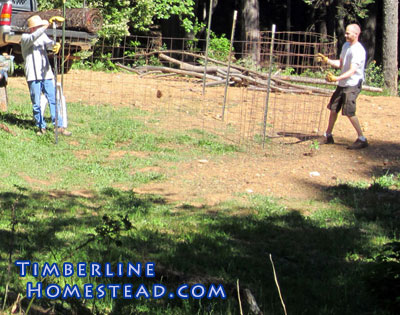 We used a combination of t-post fence clips and ties to attache the fence to the t-posts.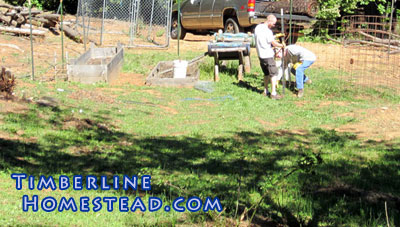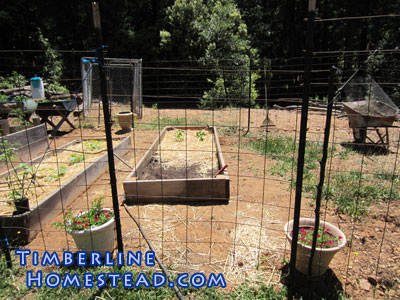 The fence was finished up with the addition of this nifty little gate. It was attached loosely with some heavy duty zip ties so it would swing freely. To cover up the rough edges on the right hand side we sliced open a rubber hose, slid it over the edge of the gate and then wrapped it from top to bottom with black tape. We added a small bungee cord to act as a latch. This will do just fine for our temporary fence.