On my quest to provide wholesome food for my family, while trying to balance busy schedules, I realized that my freezer lacked already cooked, ready to heat and eat, good for you food. I wanted to fill that void with a chicken tender- an actual piece of quality chicken, breaded and cooked, waiting for my panicked hand to grab it with relief that I do, in fact, have something nutritious to feed my family.
I perused the freezer aisles of a few grocery stores and left empty handed. I wanted organic chicken in it's original state, not mechanically separated and reconstituted, not plumped up with liquids or containing unnatural ingredients. Why was this so hard to find? I gave up on the prospect of finding a ready made option and got cookin'. I should add there was one brand I found that fit my criteria (Van's, I believe), but was so costly it was not a realistic option.
I like to make a double batch of these breaded chicken tenders to cover dinner the night they're cooked fresh (with gravy) and plenty to freeze for a few future meals.
You'll need chicken breasts, flour, seasonings, bread crumbs, 1 egg, milk, and coconut oil.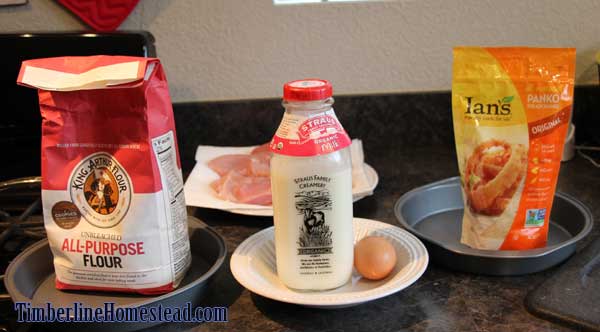 I start with about 2 and a half pounds of organic chicken breasts, boneless and skinless. Depending on how I plan to serve these homemade chicken tenders, I sometimes pound them out to a thinner hunk, about 3/4″, if I plan to use them for breaded chicken sandwiches.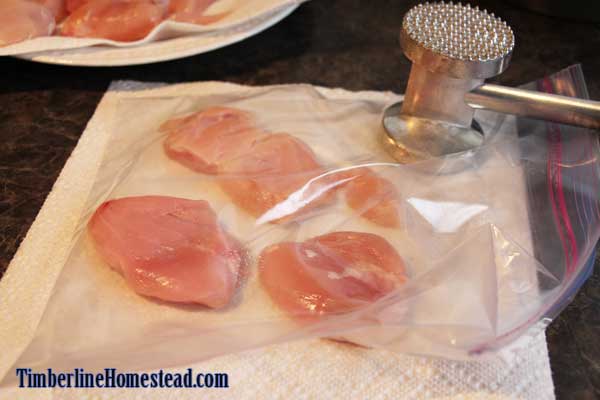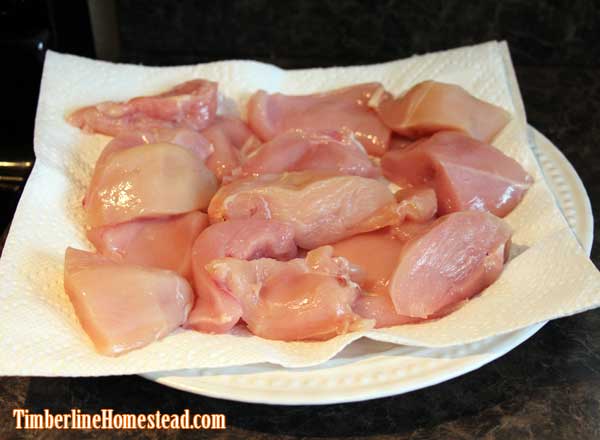 In one shallow pan, I mix 1 1/2 cups of flour with the following seasonings: salt, pepper, garlic powder, paprika, and season salt. I eye ball the amounts of each and always taste the flour before moving to the next step. This step is where the flavor on your chicken comes from, be sure not to under season.
In a second shallow pan/bowl beat one egg with about 1/4c milk.
In the 3rd shallow pan add the bread crumbs. I prefer panko crumbs for a crispy coating that holds up well to freezing and reheating.
On occasion, I will make a gluten free chicken tender using this same process, but substituting a gluten free flour blend and using gluten free panko crumbs. It's equally delicious and a great way to cut out or lower your gluten consumption.
Once my dredge, wash and crumb pans are ready, I get my skillet preheating with coconut oil so I can plop in my breaded chicken tenders as they come out of the panko crumbs. I also prepare my baking sheet or dish, which the browned chicken tenders will be transferred to after frying and preheat the oven to 325 degrees.
Each chicken breast gets rolled in the seasoned flour, dipped in the egg wash, then rolled in the panko crumbs.
Add them to the hot skillet and brown. This step is only to brown the chicken, not to cook it through. Once they get a nice brown color, transfer to the baking sheet.
Continue the process until all the chicken breast pieces are browned then bake in the oven for about 20 minutes. I always use an instant read thermometer to ensure meat is cooked sufficiently.
After cooling completely, they're ready to freeze. I reheat them at 400 degrees for about 15 minutes, or until heated through.
Note: I suggest setting some of the seasoned flour mixture aside to use for the gravy to top these delicious baked chicken tenders.