Being the cook  is one of my contributions to our family of 4 with 2 small children. I plan and cook every meal, mostly from scratch, so our family can eat what we feel is best for them. During any given day I spend a couple hours cooking and cleaning up in the kitchen.
Shortly before the recent holiday I went through some medical stuff that ultimately would require a future surgery to treat fully. Thankfully I was told to expect a short recovery of 1-2 weeks and I had the upside of ample time to plan and prepare.
Though my recovery would hopefully be short, I was fully expecting to have about 7 days of discomfort and low to no energy based on what I've been told from friends who had similar surgeries. During that time I wanted to make it as easy as possible for my husband to fill in and take over the things that I normally take care of in our home. We knew he'd be picking up everything I couldn't during this time because of where we live. Family and friends aren't near by, nor do we have take-out options.
Meal planning to prepare for surgery is easy. Meal plan for each day, create a shopping list, prepare meals and freeze. STICK TO THE PLAN!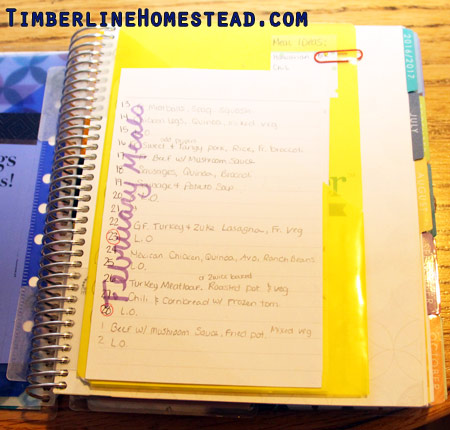 Read the rest of this entry »