I know I'm not alone in my quest to organize and declutter. I know this because I've probably spent hours on pintrest browsing through ideas others, presumably overwhelmed by clutter just like me, have pinned.
I'm pretty happy with the way my craft storage project turned out and wanted to share it in hopes it might inspire new organizing solutions for someone else swimming in art supplies.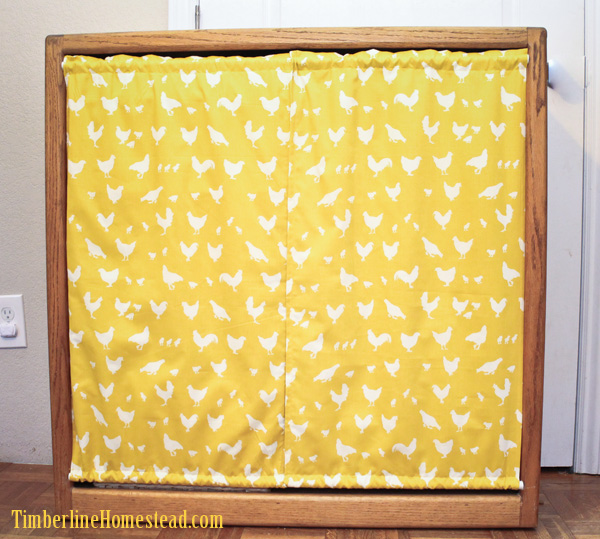 The problem: bins of unsightly arts and crafts supplies. I swear they're reproducing but they're the most loved supplies in the house so I need to find a way to deal with them. The kids seriously get giddy when it's project time.
I repurposed a solid oak bookcase to house the bins and baskets I have filled with glues, paints, cardstock, stickers, crayons…you get the idea. This is an improvement but now I have to look at a bookcase, which I don't think is particularly handsome to begin with, full of plastic bins and some baskets. My brain tells me this is still clutter. Right?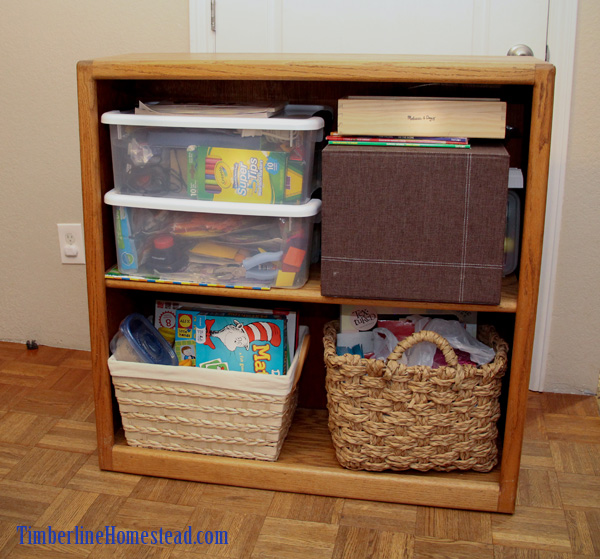 How does one make the contents of a bookcase disappear? This is my solution: 2 tension rods and homemade curtains to hide all that stuff.
I scoured the internet for the perfect fabric because a few hours browsing online is easier than driving a couple hours and perusing the fabric store with 2 impatient preschoolers. Found it! Chickens on a marigold background; it'll go perfect with my growing farmhouse themed kitchen decor. Oh yeah, did I mention this craft storage bookcase would be on a vacant wall in the kitchen?
I'll fast-track through the how-to part because the measurements and such are all dependent on the size of the bookcase, but let me know if you have questions.
I ran into a problem nearly immediately. The perimeter which I was planning on securing the tension rods to was beveled and didn't give the rubber edges of the tension rods enough room to grip. My hack for this problem is to use a drill bit to create a counter-sunk area so the rod wouldn't slip around.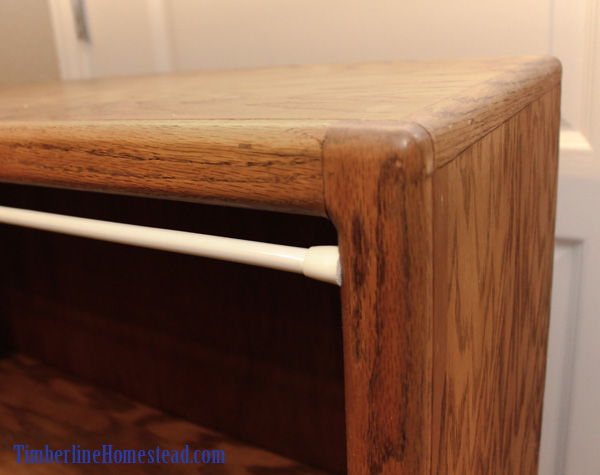 Next, I basically made 2 curtain panels with 2 pockets for the tension rods.  I decided to line them to make them as opaque as possible. In hind sight, I feel the lining adds too much bulk to the curtains and prevents them from sliding along the tension rods as easily as I wanted them to.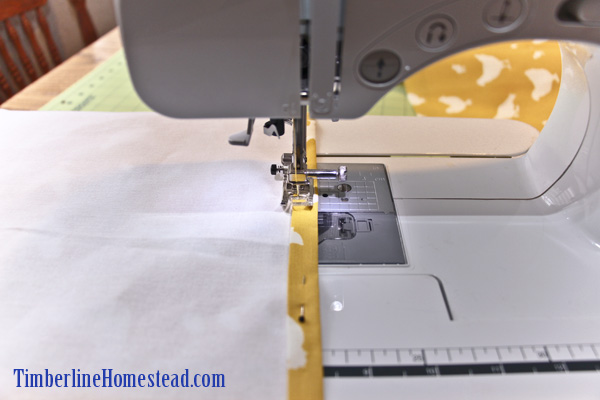 Up next? Painting that old bookcase. Now that the supplies are stowed away, I'm going to tackle sprucing up the look of the old oak bookcase with some chalk paint!